2012 – 2013
Event: The Bully Project at Mason
Date & Time: March 21, 2013 @ 6 pm
Location: Johnson Center Cinema
Links: bullyproject.onmason.com
Description: Movie screening of the award-winning documentary "Bully" in the Johnson Center Cinema at 6pm on Thursday, March 21st. Small group discussions will follow the film at 8:00pm. Sponsoring organizations: The Leadership Education And Development Office, The Civility Project, Love is Louder @ Mason, University Life, and OSI Films.
Event: Pizza & Perspectives:Where Has All the Civility Gone? Examining Discourse in American Politics and Working Across Party Lines
Panelists: Richard Rubenstein, University Professor, SCAR; Solon Simmons, Associate Professor, SCAR; Sandra Cheldelin, Professor, SCAR
Date & Time: March 5, 2013 @ 6:00pm-7:15pm
Location: Arlington Campus, Founders Multipurpose Room
Free Pizza!!
Event: Mason Leadership Institute: #InclusiveLeadership
Date: March 2, 2013
Location: HUB, Ballroom
Links: inclusiveleadership.onmason.com
Description: Don't miss out on this amazing opportunity!  In partnership with the Office of Diversity, Inclusion, and Multicultural Education, we are happy to announce that this year's Mason Leadership Institute will focus on inclusive leadership. This one-day conference. The Mason Leadership Institute (MLI) is a day dedicated to the development of student leaders. This experience, designed for advanced student leaders, is an opportunity to explore and develop leadership topics and gain self awareness as a leader.
Event: "Campus Impact Forum"
Date: February 22, 2013
Location: Meese Room, Mason Hall
Description: Participants for the Campus Impact Forum have been selected from across the university to tackle the topic: "Bridging Cultural Differences to Create a More Civil Campus."
Date: Friday, August 24, 2012
Speaker: Mike Dilbeck from the Response Ability
Location: Patriot Center
Links: http://www.raproject.org/
Description: Following the Freshman Convocation, Mike Dilbeck will speak on responsibility and civility. The event will mark the launch of the Civility Project at Mason.
Event: "Leadership, Social Justice, and Civility", Leadership Mason Conference 2012
Date: September 22, 2012
Location: SUB II
Links: http://leadershipmason.onmason.com
Description: The Leadership Mason Conference focuses on leadership skill development and education through large and small group workshop formats. Students will have an opportunity to enhance leadership skills they already have, while gaining new skills that will be of benefit for both now and in the future. Leadership Mason will create a space where students will develop an awareness of leadership qualities they would like to develop and foster within themselves and others.
Event: Election 2012, Discourse and Electoral Processes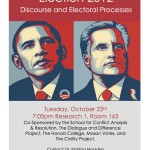 Date: October 23, 2012
Location: Research 1, Room 163
Time: 7:00pm
Co-Sponsored by The School for Conflict Analysis and Resolution, The Dialogue and Difference Project, The Honors College, Mason Votes, and The Civility Project.  Contact: Dr. Patricia Maulden at pmaulden@gmu.edu.
Event: University 100 Civility and Conflict Management Curriculum Component
"Effective Communication: Civility and Conflict Management"
Dates: November 5-9, 2012
Links: http://transitions.gmu.edu/
Description: The University 100: Freshman Transition, will launch the Civility and Conflict Management curriculum component for 43 University 100 courses.
University 100 assist first year students with their transition to Mason through the development of a relationship with others in the class including the instructor and peer advisor, the establishment of a knowledge base of campus resources, and the acquisition of basic academic skills for success.
GMU Civility Days
Dates: November 13th at the Prince William Campus and November 14th at the Fairfax Campus
EIP (Early Identification Program) Dear2Serve: Service  Conference
Saturday, December 15: 9-3pm

Presentation: "Effective Communication: Civility and Conflict Management"
"Conflict is part of our daily life. To know how to effectively handle difficult situations by engaging yourself in positive civil behaviors is an important skill that any leader should have while promoting social change. By attending this highly interactive session you will acquire a better understanding of the nature of conflict and your own reactions to it. Through group exercises we will practice role playing on good active listening skills. Finally, you will be equipped with a 'full box of tools' to identify and incorporate positive civil behaviors in your everyday life."